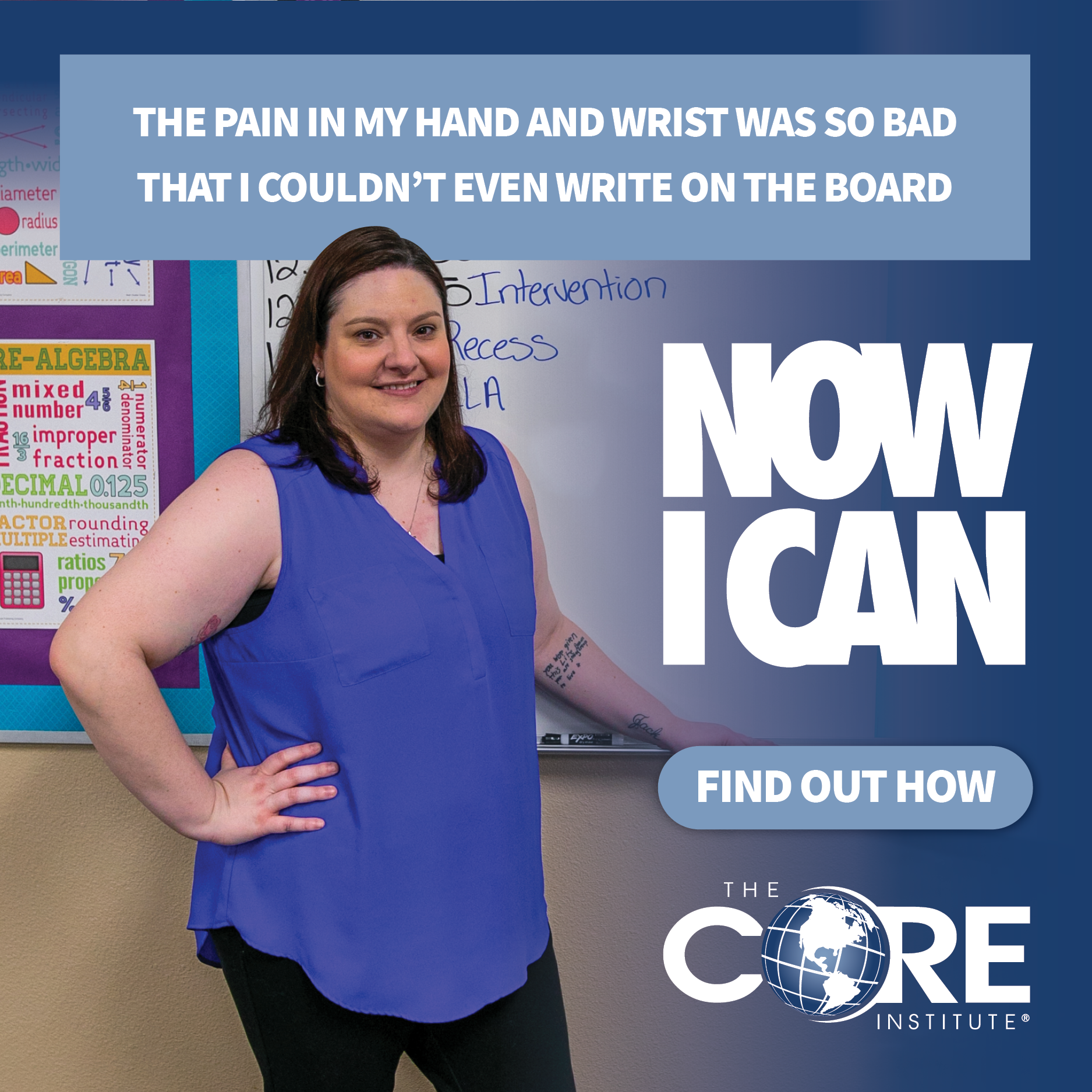 "I've wanted to be a teacher since I was 5 years old.  Everything in my life up until that point had revolved around being a teacher."
Sara is a 4th grade teacher who began teaching in 2008 and had no intention of stopping anytime soon.  But, when she started feeling nagging pain and numbness in her hands and wrists, she was told by one physician that it should probably be her last year of teaching and she should explore other careers that did not involve as much writing.  "I was devastated," Sara said.  "But I also was not ready to give up."
Sara's hand and wrist pain was also complicated by fibromyalgia, a nerve disorder for which she saw specialists at The CORE Institute to help manage.  At one of her appointments, one of the specialists recommended that she meet with a Hand and Wrist Specialist at The CORE Institute to determine what was causing the pain in her hand and wrist.  She took the advice and an EMG revealed that Sara was suffering from Carpal Tunnel Syndrome in both wrists.
Luckily, her surgeon let her know that an outpatient surgical procedure that only involves a small incision to help release the nerve would alleviate her symptoms.
Over the course of the year, Sara underwent a Carpal Tunnel Release in her left wrist, then in her right wrist.  Sara was back to teaching a few weeks after each procedure and was able to engage with her students without pain as a distraction.
"I went from not even being able to write on the whiteboard to winning Teacher of the Year for my school in just a few months."
At The CORE Institute in Arizona and Michigan, our goal is to help you Keep Life In Motion.  Our expert team of orthopedic, spine and neurology specialists use the latest research and technology to help you get back to doing what you love.  If you are dealing with pain, contact us today to learn about your treatment options.