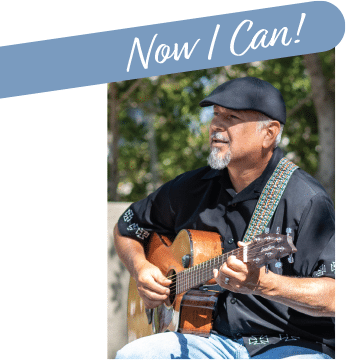 Vincent, a motorcycle enthusiast, went on a ride with friends down a scenic route to Phoenix. But, a few hours into the ride, Vincent's motorcycle malfunctioned, and he was thrown from the bike,  smashing his right hand  into a pole before landing face down on a 45-foot embankment.
Hospital surgeons told Vincent's wife that because his hand was so badly injured, he may need to undergo amputation. "My wife refused," Vincent recalled. "She would not sign the paperwork to allow them to amputate."
Hospital staff then consulted with the specialists at The CORE Institute to see what could be done to save Vincent's hand. The CORE Institute physicians earned the trust of Vincent's wife and successfully realigned the bone and the joint and reconstructed the joint surface with a combination of plates and screws to restore function.
"Before coming to The CORE Institute, my hand was injured so badly that I thought I would never play guitar again. Now I Can."
At The CORE Institute in Arizona and Michigan, our goal is to help you Keep Life In Motion.  Our expert team of orthopedic, spine and neurology specialists use the latest research and technology to help you get back to doing what you love.  If you are dealing with pain, contact us today to learn about your treatment options.