Surprise, Ariz. -The CORE Institute, #1 ranked Phoenix-based orthopedic group, is proud to announce it is opening its first freestanding physical therapy clinic in Surprise. The clinic will be opened under the management of licensed physical therapist, Nick Bellinaso. Utilizing The CORE Institute's commitment to providing the best possible outcomes, it will serve the needs of patients in the Northwest Valley beginning January 15.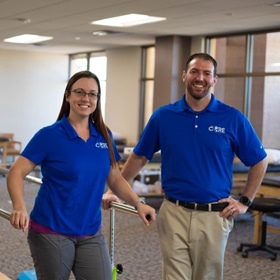 The Surprise physical therapy clinic is located at 13995 W. Statler Blvd., Suite 165 Surprise, AZ 85374 and will compliment and expand coverage to Northwest Valley residents currently offered through The CORE Institute's Sun City West Physical Therapy Practice. The Surprise clinic will provide all outpatient orthopedic physical therapy services, including: Sports medicine, post-op rehabilitation, pre-op rehabilitation, injury prevention, and work conditioning.
"The CORE Institute is excited to expand our physical therapy services in the Northwest Valley with this new facility in Surprise to better and more conveniently serve our patients," said Dan Neal, Senior Vice President, Physical Therapy. "This will be our first freestanding physical therapy practice and will demonstrate our commitment to excellence and best-in-class service for which The CORE Institute is known."
While this is the first free-standing clinic, The CORE Institute currently offers physical therapy services at all of its clinics, including locations in Gilbert, Mesa, North Phoenix, Peoria, Sun City West, and West Phoenix.